Prepare For The Pandemic - Board Game Storage
Start saving humanity by being super organised by adding an organisation accessory storage box to your Pandemic board game.
This board game like many other strategy adult board games comes with a variety of small parts that help add value and make the game more interactive and intense when playing. Without these small parts, the game would not be playable and therefore they are important to look after.
The Pandemic board game uses a lot of small parts as the disease and virus spreads, therefore the longer you play or the more frequently you play the easier it is to lose the small components if you do not have a dedicated space to store them.
A storage box like the one in the photo below is great for keeping the small parts together and organised so the game becomes less stressful and therefore easier to play. With several compartments in the organiser box, it is easy to organise the smaller counters into the fixed divided compartments when it is in storage. This way the smaller parts will not mix colours.
Without an organiser box or any way of keeping your small parts to your board game together, it is easier for you to start losing the small parts the game becomes obsolete and the game will not be able to be played.
Therefore looking after these small parts is crucial to the success of the game and keeping the game in one piece.
By using a transparent utility, organiser storage box to store the smaller items together this gives you peace of mind when storing your board game away when it is not being played.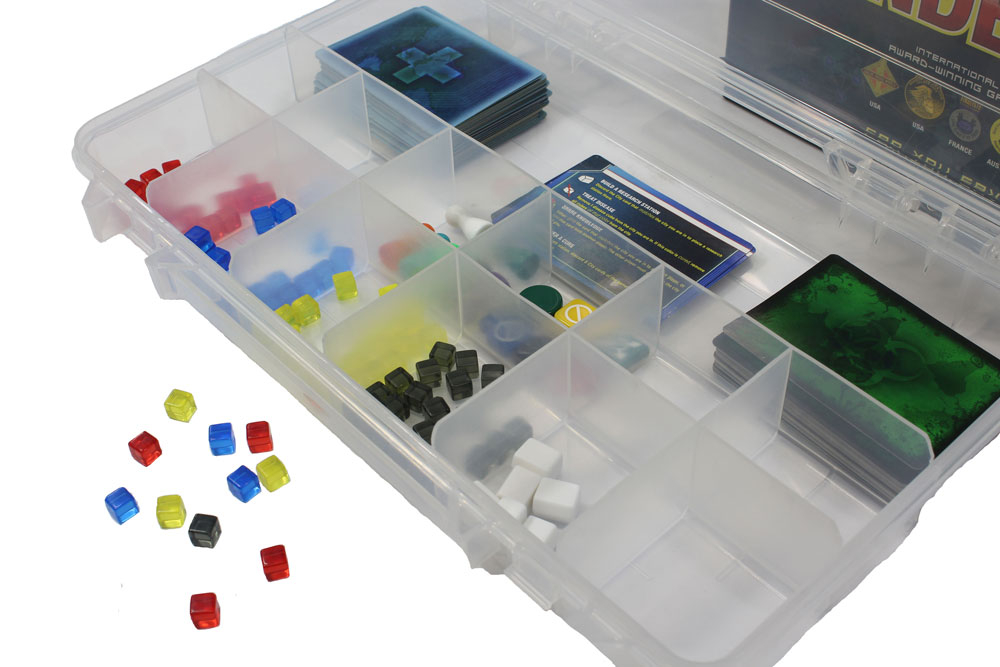 If you are fed up with your strategy board games smaller parts like pandemics cubes going everywhere when playing with your family and friends adding an organiser box that is dedicated to the game is a great idea.
While fighting the virus in the game it is not ideal when you realise you are missing some parts like the disease cubes or the cure markers.
In this utility box, there is a clear section for each small part from the game as well as holding the playing cards in one place. A good tip is to use an elastic band for separating each colour.
The Pandemic game is a great board game as it has a longevity of playing to it just like the game monopoly, With a series of great 'Epidemic cards' that help increase the number of infections in play and a randomised beginning to each game.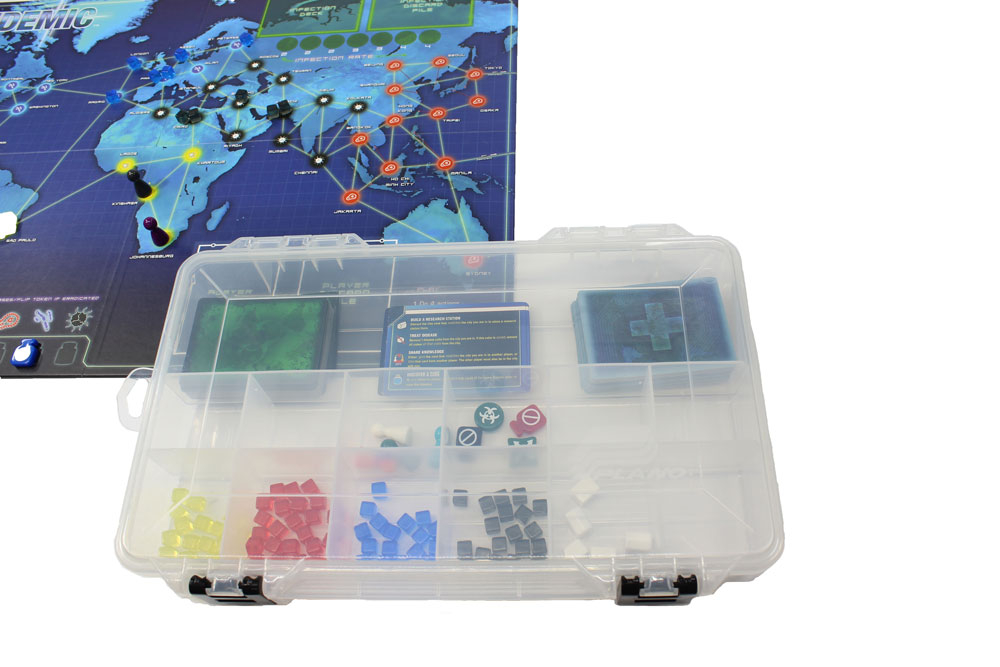 This co-operative game is the first of its kind to make winning together an exciting adventure as you all have to come up with strategies to contain the disease together.
If you have not played a co-operative game before it is quite hard to get your head around, If you start to lose you all lose so the aim is to win together.
What is involved in the box when you buy the Pandemic Game:
- Game Board – essentially a map of the world with major cities marked on it
- 7 Role Cards & Pawns – Cards for the characters you play with and their playing pieces
- 6 Research Station markers
- Game Play Tokens
- 96 Disease Cubes
- 48 Infection Cards
- 59 Player Cards
- Reference Cards & Rulebook
You can purchase a variety of transparent utility boxes in the Plano Store here.
These organiser utility boxes are great for organising small parts of the other strategy adult board games in your collection like Diplomacy and war of the ring.